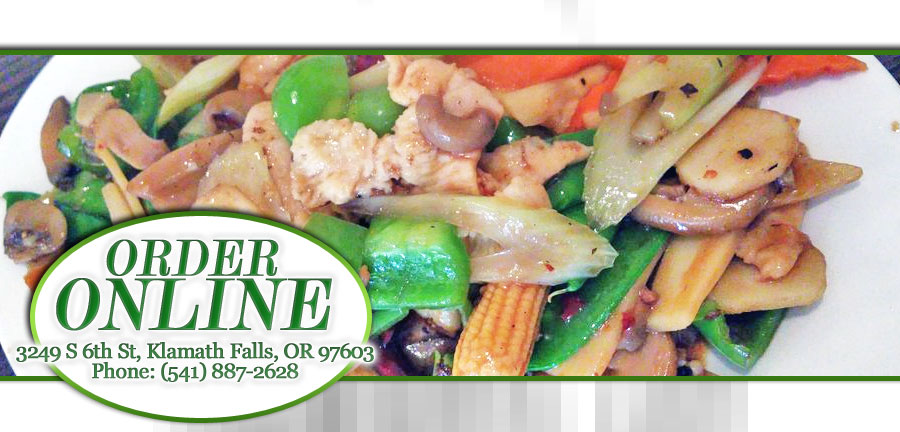 Name:
China Garden
Location:
Google Maps
Website:
http://www.chinagardenklamathfalls.com/
Summary: 
We got takeout, but I was kind of disappointed, after seeing the interior I would have loved to have taken a seat and ate in.  Big portions, excellent menu to pick from and everything we had (which was a lot) was fantastic.  I love Chinese food in general, and it's difficult to find somewhere that does it well.  This place does, I highly recommend giving it a shot.
The Story:
Arriving in the early evening, we were too exhausted after two days in the car to make much of an effort in finding somewhere to eat, and/or going to there to eat the food.  One thing we could agree on, was Chinese food.  I did a quick search on my phone to see what was nearby our hotel, there were quite a few options.  I read a few reviews and they pointed me toward the China Garden.
Their menu was easily accessible online, and I could even place the order online so I didn't have to talk to a real person (see: I don't like people).  This is all A+ for me, so the ordering process went very smoothly.  No delivery option, pick up only, but I suppose you can't have everything.
It was only a block from the hotel, I did find it challenging to get in to the parking lot, but that's because it was pitch black and I never drive well in the dark in a strange place.  The restaurant looked small, and probably old fashioned in the daylight, but I couldn't really tell in the dark.
The inside was that "authentic" what westerners think china looks like, that I'm pretty sure isn't what china actually looks like decor.  I liked it, I usually do.  The entry area was actually quite large, with a few comfortable chairs for those of us waiting on pickup orders (I assume, it was totally empty when I walked in).  The woman was Asian and spoke accented English (probably an act, she could have a New York accent and speak street slang when out of earshot, who knows).
My order was ready essentially when the app on my phone said it would be.  It came nicely boxed for easy travel, and with plastic silverware and plates.  I was only mildly disappointed it didn't come in those awesome fold top boxes that all Chinese food comes in on the TV. I've only had those once or twice, and they make me grin every time.  "Real Chinese Food!' – my wife just rolls her eyes at me.
I realized about half way through unpacking that I'd ordered a lot of food, but I was pretty hungry and wanted to try a bunch of stuff.  We only ended up eating about half, and having to leave out leftovers since they couldn't travel with us (no cooler).  I tried to insist we finish everything before bed, or at the latest in the morning, but neither of us took my demands seriously.
Everything was fantastic, and I'm still sorry that our stomachs would accommodate us eating more of it.