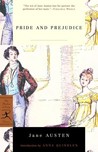 Pride and Prejudice by Jane Austen
My rating:
(3 / 5)
The story itself is timeless and enjoyable. Would I have read this book with enjoyment if it wasn't so widely known and praised. Not likely – but I admit to not reading romance in general so take that with a grain of salt. The characters are somewhat flat, mostly uninteresting, and the story itself is impractical. But it's an interesting view in to history, society and manners.
The best character in this book is Mr. Bennet. Why we don't get to see more of his grounded, down to earth, philosophy and biting sarcasm is beyond me. Relegated to a background role, I was forced to read chapters of girlish nonsense just to get a few sentences from him to make me smile.
Similarly Mrs. Bennet (Sr? the oldest one? Aren't they all called Mrs. Bennet at some point?) is a pitiable character, so flighty as to be absolutely void of any personal character or common sense. I suppose if I was stuck with that for a wife I'd spend all my time alone in another room of the house too.
The "Romantic" parts of the story seem to revolve around how fortunate the young women are that the rich men want anything to do with them – and their worries that the men are possibly too rich to find the poorer girls of any interest. Fortunately, the poor girls are pretty and that's all that matters to the rich men.
I struggled the hardest with the abrupt alteration Mr. Darcy's personality took in the latter part of the book. I mean, I didn't like his original personality, he was an asshole – prideful, disdainful, superior and arrogant. Which was fine, cause that's generally how rich people treat poor people and we all understand that. Suddenly though, after telling Elizabeth why he is so much better than she is, and she is so far beneath him that it pains him to be in love with her and condescending to marry her anyway (awesome proposal btw), after that rejection he is a completely changed man!
It's nice to know that if you want a girl to like you, all you have to do is put her down severly and belittle her so that she knows she's beneath you – then condescend to do something nice for her. After that she'll recognize how much you care for her, since you're willing to help her out even though you're so far superior to her and she'll marry you for your money anyway.